What was Kumi Okimura's experience at Springboard?
By:
The SwitchUp Team
Last Updated:
August 8, 2018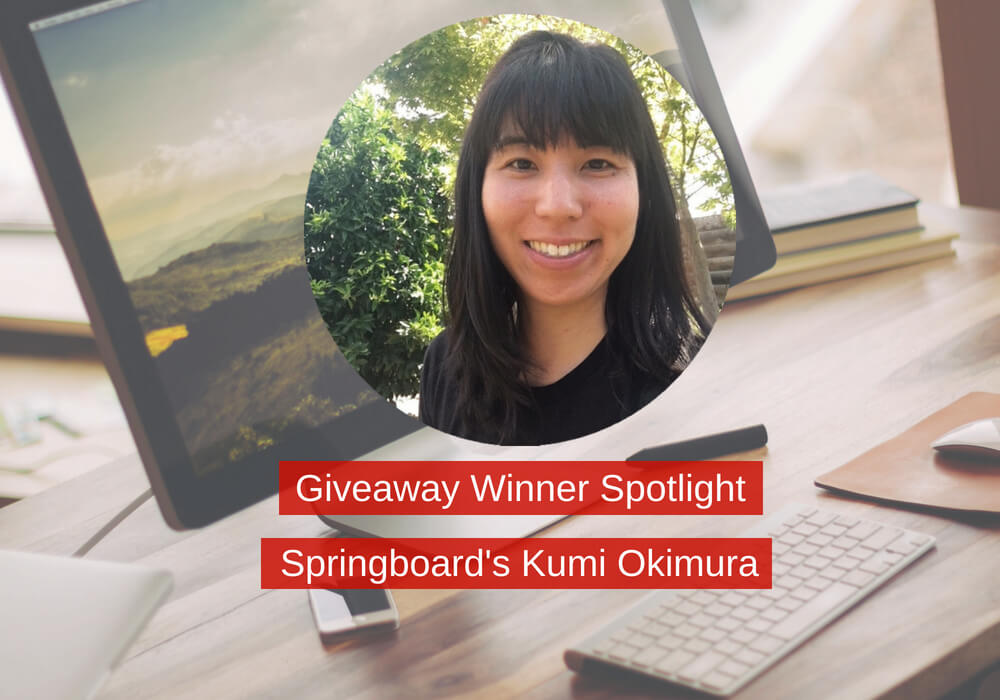 Kumi is currently a stay-at-home mom working on getting back into the career space. Previously, she worked in desktop publishing, online content management, and e-commerce, and most recently in the healthcare field, in physical therapy. She has always been interested in ergonomics and usability and considers it a hobby. She decided to pursue Springboard's UX program to test her skills and see if she really wanted to take the plunge! She discovered that she really loves working in UX, and most importantly, found out that her passion is UX research. Now she's working on pursuing a career in UX Quantitative Research.
Can you tell us about your educational background?
I received my B.S. in Graphic Communication and B.A. in History from Cal Poly San Luis Obispo. I also have my Physical Therapist Assistant A.S. Degree from Ohlone College.
What inspired you to attend Springboard?
I've always been interested in ergonomics and usability and wanted to test my skills to see if I could really do it. When I saw Springboard's curriculum, I didn't hesitate to join -- the flexibility their curriculum offered was extremely appealing, the pricing was reasonable -- I couldn't say no.
What did you study at Springboard? Is it something you always wanted to do?
I studied UX at Springboard. For all of the years I've worked, yes, I think it's always something I wanted to do, but never pursued it. I think that is why I switched from content management to physical therapy -- to be closer to the ergonomics/usability space.
There are quite a few bootcamps to choose from - what made you decide to attend Springboard over other programs? What were your goals for the program?
I did a lot of research. I read a lot of student reviews online. My main areas of concern were the flexibility/how much time I had to complete the program, location, price, and student support. One of my main concerns was if something came up with my family and I had to take a break, was Springboard going to be supportive? The answer was yes. The 7-day trial period also made me less reluctant, I could explore what the curriculum offered within that time and drop out if I found it didn't suit my needs. My goals for the program was to find out if I really wanted to pursue UX as a career, and better than that, I was able to find a niche for myself within UX, UX Research.
For you, what were the pros and cons of attending a bootcamp?
Pros: self-paced, no barriers for entry (resume, portfolio, experience, letters of rec). Cons: It can feel fast-paced (even though you go at your own pace) because you complete so many projects in a short amount of time, so it's hard to find time to reflect on mistakes, or take-in what you've learned.
Tell us a bit about your experience and the day-to-day during the course: How were courses structured?
The courses are structured in units. You work through each unit at your own pace, and you have a weekly mentor call via Skype, and your mentor helps you to stay on track, give you encouragement, and valuable advice.
What was your cohort like?
They were all very encouraging and friendly! At first, you feel so intimidated to join and say hello to everyone, but the diversity among the cohorts is so amazing, there are literally people from all over the world! I wish I took more time to reach out to my cohorts during the curriculum, but with a lifetime membership, I can still take advantage of that, even though I'm done with the program!
What was an average day in the program like?
For me, my free time was during the weekdays from 9am-2pm. I tend to work a lot slower when I'm learning something new because I'll take notes and try to really take all of the information in. So having 5 hours Monday thru Friday was so valuable for me. I would log on to Springboard, the portal would take me directly to the unit I was working on, and simply, I would start working. Some days it was watching video lectures, reading articles, practicing techniques or learning software, and some days/weeks, it was just trying to crank out my projects.
What was most helpful about the environment and teaching style at Springboard?
The mentorship is really invaluable. My mentor was spectacular -- she always gave me the most practical advice and there was never any push from her to do things "her way", which in traditional academic settings, is what typically happens.
Can you tell us a little bit about what you have been doing since you graduated from Springboard? Tell us a little bit about what you do in your current job.
Currently, I'm not employed. However, the Springboard UX Program has sprung my interest in UX Research, so I'm currently working on supplementing my UX education with some Data Science courses because I'm interested in pursuing a career in UX Quantitative Research.
What motivates you in your career?
Working with people who really love their job and working towards making a difference in people's daily life, whether that is micro or macro, given the day, project, or challenge.
Did you feel your bootcamp prepared you for the job search, and if so, how?
I did find the Springboard's Career Resources section to be useful and I still go back to review some of those articles or videos, as I am working on my portfolio site and resume. I did receive some nice advice and resources from my mentor on how to approach the job search, which as extremely helpful because they were sources I previously didn't consider or know about.
What challenges have you overcome to get to where you are?
Time-management of projects, prioritization of tasks, learning new software, putting yourself "out there" and opening myself up to the community for feedback.
What advice do you have for people making a career change through a coding bootcamp?
If you've been thinking about making change for at least a year, it's time to go for it, and just get it done!
Any advice for recent graduates looking for a job?
Be realistic, but optimistic. The #1 thing that is crucial to landing a job is to build your network, so keep meeting people, ask questions, and build relationships.
And finally, is there anything else you'd like to share?
Be nice to everyone, wherever you are, because the world is a small place, and you'll never know when something pays off, simply because you said thank you with a nice big smile.
---
Want to learn more about Springboard? Check out what alumni have to say on SwitchUp.